4-Point Insurance Inspections are a limited, visual survey of the…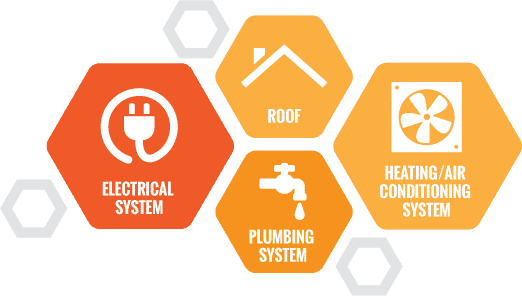 A Four Point (4-Point) Inspection is typically performed for a homeowner when requested by their Insurance company to obtain new insurance or when renewing an existing policy.

A 4-Point Inspection is far less in scope than a standard Pre-Purchase Home Inspection and does not take the place of a Pre-Purchase Home Inspection when a customer is considering the purchase a home.
If you already have a Pre-Purchase Home Inspection and your insurance agent asks you for a 4-Point, in most cases, it would not be wise to use the Pre-Purchase Home Inspection in place of a 4-Point. An Inspector performing a Pre-Purchase Home Inspection is being critical in many points that are not part of a 4-Point Inspection. The Insurance Underwriter may see other points that are normally out of the scope of the 4-Point and decide to not write the policy.
Most 4-Point Inspections take about 25 minutes to an hour to perform.
Our 4-Point Inspections are produced in digital format with color pictures.
If you provide us your Insurance Agent's email address, we would be happy to send them copies of the report electronically.
Please make sure to select the appropriate 4-Point for your Insurance carrier from our list of choices. The majority of the insurance companies in Florida accept our standard 4-Point format. Citizens and State Farm require their own report formats and information that may vary from other insurers. It is imperative that you verify what you need so we perform the appropriate inspection for you. Failing to do so may result in another visit to your home by our Inspector to gather more information (If necessary), a re-inspection fee, and a delay in completing the report. If you do not see information on a carrier specific 4-Point format on our website, and your agent had informed you that the carrier will only accept that format, please give us a call so we can review was is needed and schedule the correct 4-Point for you. We want things right the first time!