Indicators of possible indoor air quality problems may include…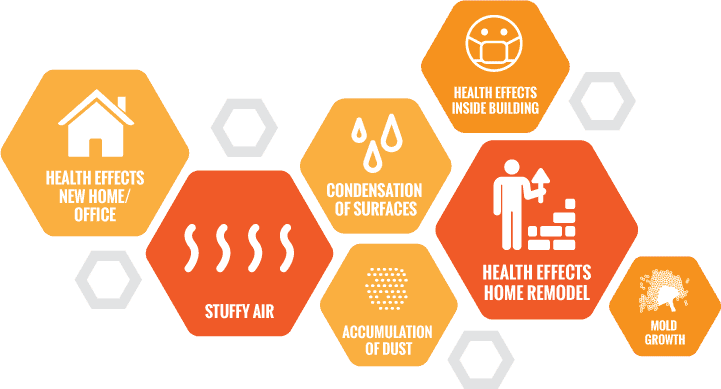 Indoor Air Quality (IAQ) refers to the quality of the air we make contact with and breathe inside of buildings. A focus of building sciences is to design and engineer buildings that provide a comfortable and healthy environment for their occupants. This can be accomplished by minimizing indoor pollutants, maintaining comfortable temperatures, and limiting excessive humidity.
Health effects from poor indoor air quality may be felt immediately or manifest themselves slowly over years.
Indoor Pollutants can include:
Biological
Mold
Bacteria
Viruses
Animal parts or by-products (Dander, waste, etc.)
Plant parts or by-products (Pollen, etc.)
Chemical/Gas/Metal/Mineral
Carbon Dioxide
Carbon Monoxide
Volatile Organic Compounds (VOCs)
Radon
Lead (In Pre-1978 Homes)
Asbestos
Smoke from tobacco use
Some common effects may include irritation (eyes, nose, and throat), headaches, dizziness, and fatigue. Although less common, long-term effects may include diseases that affect the lungs/skin/heart and cancer.
Indicators of possible indoor air quality problems may include:
Health effects that manifest themselves when someone moves to a new home/office or a different location inside of a building,
Health effects that manifest themselves after someone remodels a home or business,
Health effects that manifest themselves after pesticide has been used inside of a building,
Stuffy air,
Condensation of surfaces,
Mold growth,
Large accumulations of dust on surfaces,
What can be done?
Stop leaks and dry them as soon as they are found to minimize mold problems and off-gassing of water damaged building materials,
Monitor humidity and verify that it is maintained between 40 and 55% throughout the year. (problems can form once it reaches 65% for a prolonged period of time),
Keep your home free of tobacco smoke (Cigarettes, Cigars, Pipe smoking),
Clean your home on a regular basis to limit dust and debris build-up,
Use ecologically friendly non-toxic cleaning chemicals when possible,
Use proper ventilation for good air exchange,
Use air conditioning filters that have a good balance between efficiency and air filtration rate,
Change or clean air conditioning filters on a regular basis,
Test for indoor pollutants (Mold, Bacteria, Animal/Plant parts and by-products, Volatile Organic Compounds, Carbon Dioxide and Carbon Monoxide, Lead, Asbestos, Radon, etc.).
The most common indoor air quality item inspected/tested/assessed
Most of the concerns that our customers talk to us about deal with water damage and mold growth. For more information on mold and mold related services please click on the following page link: www.fsginspections.com/mold-related-services When we perform a mold assessment we also document observable moisture problems, temperature, and humidity.