The following items are reviewed in a Windstorm Mitigation Inspection…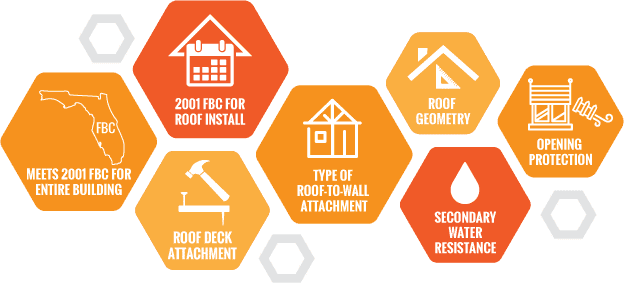 Depending on home conditions, windstorm insurance rates can be reduced substantially with a Wind Mitigation Inspection. A Wind Mitigation Inspection verifies construction methods/technologies that provide greater protection from wind-borne hurricane damage.
According to Florida Statute 627.0629, all insurance companies are required to offer Florida homeowners "discounts, credits, or other rate differentials…" for particular construction techniques that help to reduce wind damage caused by hurricanes, tropical storms and other windstorms related claims.
With the "My Safe Home" program discontinued by the State of Florida, wind mitigation inspections should only be conducted by licensed and qualified Inspectors, such as Home Inspectors, Building Contractors, Engineers, or Architects Certified by the State of Florida. Customers should beware of prices that are simply too cheap for a licensed professional to conduct.
Wind Mitigation discounts are applied towards the windstorm portion of your total insurance premium. Depending on where you are located in Florida, the windstorm portion is approximately between 15% and 70% of the total premium. Premium determination is very complex and actual dollar discounts are not calculated by the inspector or the inspection company. For exact quotes, please contact your insurance agent.
There are three main factors for wind mitigation discounts:
1) The number of wind resistive construction features present-
The more wind resistive features you have, the higher the total discount will be for your property.
2) The location-
Discounted wind insurance rates are adjusted according to where your property is located within the state.
3) The value-
The higher value a condo, townhome, duplex or home has, the higher the insurance premiums (Therefore, the value of the discounts will increase with the value of property.)
The following items are reviewed in a Windstorm Mitigation Inspection:
2001 building code compliance for entire building (Homes built after March of 2002)
Date of roof installation and if it meets 2001 or newer building code,
Type of roof deck and deck to truss/rafter fastening method,
Type of roof-to-wall attachment,
Roof Geometry (Shape),
If there is an acceptable secondary water resistance barrier (SWR) such as "Peel and Stick",
If there is acceptable opening protection (wood panels, shutters, impact windows, etc.).
Please note that each item can be an individual credit. It is not necessary to meet the most stringent requirements for all of the questions in order to get a discount on insurance. The majority of our inspections are performed on homes built in the 1990's or older.
We produce your inspection digitally on a tablet and send it to you with the appropriate form, OIR-B1-1802 (Rev. 02/12), and necessary pictures. If you provide us your Insurance Agent's email address we would be happy to send them copies of the report electronically.